DUX LUX REX LEX Cross
You could be forgiven for mistaking Dux Lux Rex Lex for the similar slogan adopted by supporters of the fascist dictator Mussolini: Dux Mea Lux (The Duce Is My Light). But Mussolini was the antithesis of Dux Lux Rex Lex.
Or if you think Dux Lux Rex Lex is something to do with a luxury Lexus car; it isn't.
The true meaning of Dux Lux Rex Lex is infinitely better.
DUX LUX REX LEX Cross
There is no prescribed positioning of the letters on a DUX LUX REX LEX Cross. The four words are believed to have been the prayer of a 2nd century Christian Roman nobleman, inscribed on the walls of the catacombs in Rome.
The rough English translation is "my Leader, my Light, my King, and my Law" in reference, of course, to Jesus Christ. When forming a cross, the letters are usually arranged so that the final 'X' of each word is in the centre of the cross; 'X' being the Greek Chi, the first letter in 'Christ'.
They form a popular motto for religious and educational institutions and often include the Latin Jesu esto mihi Jesus (O Jesus, be to me my Saviour / Healer) or Jesus Christus esto mihi (Let Jesus Christ be mine).
Variations are found in many churches, such as the old church at Amherst College, Massachusetts and on an arch leading into the apse of the chapel at Yale University.
Further logos can be found with variations, such as REX, LUX, DUX, PAX (King, Light, Lord, Peace).
The International Order of St Luke the Physician is an ecumenical organization dedicated to the Christian healing ministry. Members meet together in local chapters to study Scripture, especially the Biblical stories of the healing miracles, as well as other books on Christian healing. Members also engage in healing prayer, often with the laying-on of hands.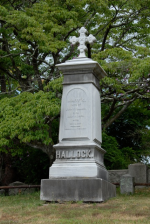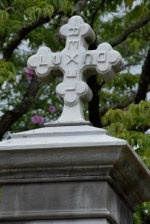 The acrostic is also found on gravestones, such as the Budded Cross on these photos kindly sent to us by the historian at Sleepy Hollow Cemetery (sleepyhollowcemetery.org) on the banks of the Hudson River just a few kilometres north of New York.
This cemetery is both huge and old, and includes graves with several different religious themes; for example a few Unificationist graves, though most follow the Christian heritage of traditional American cemeteries.
DUX LUX REX LEX as a
St. Andrew's Cross
on tombstone of Henry Wadsworth Longfellow (1807-1882) at Mount Auburn Cemetery, Cambridge, Massachusetts.
(See Longfellow's famous poem
Evangeline
,
or for a more recent version of his work,
Up'ards!
)