Pilgrim's Progress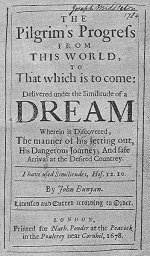 The Pilgrim's Progress was written between 1675 and 1684 by Englishman John Bunyan. It is understood that he wrote each of the two parts at different time, but they form a continuous narrative. Unlike conventional stories, it is not divided into chapters.
The original spelling, grammar and punctuation have been retained, as we see in this first edition title page that reads:
"The Pilgrim's Progress from this world to that which is to come. Delivered under the similitude of a DREAM wherein is discovered the manner of his setting out, his dangerous journey; and safe arrival at the desired countrey. I have used similitudes, Hos. 12:10. By John Bunyan. Licensed and Entered according to Order. London, Printed for Nath. Ponder at the Peacock in the Poultrey near Cornhil, 1678."
Contents
Foreword
Pilgrim's Progress is a Christian literature classic. It is a spiritual allegory that has been enjoyed by readers for over three centuries.
It was written between 1675 and 1684 by Englishman John Bunyan in two parts, the first of which tells of 'Christian' and his journey to the Celestial City (heaven). The second part relates the same journey taken by his wife Christiana and their children. These two parts form a unified whole, which become an allegory of the Christian's struggle through life.
The spiritual significance of the depictions in the story are not difficult to understand for readers of all ages.
The shrewd choice of language to describe the author's feelings is a delight. In addition, the quaint form of spelling (by later standards; 'bad' English) matches Bunyan's unashamed derision of the bad guys in the story, such as Beelzebub and Apollyon, plus a whole babble of undesirables, such as Obstinate, Hypocrisy, Envy, and so on. The atheists even have their own page.
The author pulls no punches in his dislike of other faiths: Islam, Roman Catholicism and Paganism. For example, the derogatory remarks about the 'Turk' in Talkative; Catholics in Vanity Fair; and the pope is lumped together with Pagans in The valley of the Shadow of Death.
So enjoy these pages, as innumerable others have. Click the tabs for each 'next page' in turn, and refer to the directory tabs of 'characters' and 'places' whenever required.