Western Style Weddings in Japan
Many people no longer consider Japan as an 'Eastern' country, but rather one of those countries where East meets West. And this is certainly the case with Western-style weddings in Japan.
Western Style Weddings in Japan
There can be several reasons why so many couples want this style and the most popular are: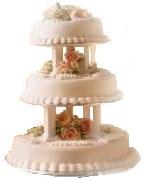 Japanese have long liked to copy, and improve on, the West. Take for example the national railways, communication systems, democracy, and anything to do with electronics.
A Western-style wedding is cool. According to L'Oreal (in 2006), 70% of Japanese people dye their hair. It's fashionable to imitate other cultures, just as Westerners do by getting a suntan so they can look 'exotic'
A Western-style wedding is usually less expensive than a shinzen shiki (traditional Japanese style wedding).
Just close family attend the shinzen shiki, whereas many friends and extended family are invited to a Western-style wedding.
Western style is considered more romantic, cheerful, modern and less tiring.
Western style is promoted through so many movies, magazines and Japanese TV dramas, that couples don't consider any other form.
Wedding Chapel
Neither consecrated nor a place for regular Christian services, the chapel style may be simple and modern, or elaborate and baroque with sumptuously piled-on ornateness. The "chapel" could be a temporary arrangement of furniture in a garden or a restaurant, but usually it's a permanent feature in a wedding hall or hotel.
There, the chapel is typically part of a larger facility designed for weddings, including a room suitable for the bride to dress and be made up, and private changing rooms for the groom, the couple's parents and other important guests. There's a place for the families to meet and formally introduce themselves (goshinzoku shokai), a studio for photographs and of course, a suitable place for the reception party.
Each part of the complex is staffed by dedicated professionals who make it their business to ensure the couple enjoy their special day.
Wedding Ceremony Rehearsal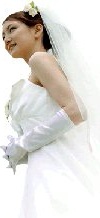 The ceremony is preceded by a rehearsal, enabling the bride (shinpu) and groom (shinro) to give their best performance with the minimum of stress. Then the couple retire to a waiting room whilst the guests and families enter the chapel and take their places.
Often there's a rather nice pre-ceremony ritual, where the bride's mother lowers her daughter's veil. This token is the final act of the mother for her child. For the father, his final act is the traditional escort down the aisle. When the veil is lifted again (in the ceremony), it will be the first act by the bride's new guardian, as he takes the responsibility of being her husband.
Wedding Procession (shinpu no nyujo)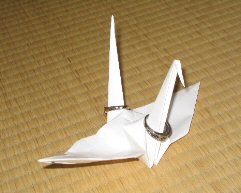 Myths and truths about wedding rings
.
The wedding pastor, perhaps bearing a Wedding Cross, gives a brief welcome and introduction and then announces the bride's entrance. The doors swing open and all faces turn to see the bride gracefully enter and walk down the aisle. Usually the bride is escorted on her father's arm.
The wedding procession may include one or more children, who perform duties such as carrying the ring cushion, scattering flower petals, holding the bride's veil, etc. "This is a magnificent moment" explains one wedding pastor. "The accompanying music (Dank sei Dir, Herr for example) can be a pipe organ, a choir, a trumpet, flute, Gospel singer, or whatever the couple want. We've even had Scottish bagpipes! Whatever is chosen, the music is always fabulous. Sometimes I want to tell the bride to go out and come in again, just so I can listen to the music one more time!"
The procession ends with the groom bowing to the bride's father, who returns the bow. As everyone knows, bowing in Japan is an art, and this particular exchange is especially significant: The father is handing his daughter over to the groom.
Wedding Service (kekkon shiki)
Then the service starts. It follows the pattern of a traditional Protestant marriage ceremony, largely unchanged for hundreds of years. Pretty relaxed, not overtly or charismatically evangelical, and low emphasis on some of the more conservative rites. The opening hymn is usually the Japanese version of What a Friend We Have in Jesus. This is probably the most widely known Christian hymn in Japan, so everyone can join in.
Tip: If you think you might start crying and feel embarrassed at a wedding, make sure you join in that opening hymn. Singing is therapeutic!
And if you're a bride and the singing trick doesn't hold back those tears, don't worry. People just love to see a bride weep a little. Make sure you keep that handkerchief to pass on to your daughter's wedding!
Part of 1st Corinthians chapter 13 is then read from the Bible, which does an amazing job of explaining what 'love' is; something poets spend their whole lives trying, but failing, to define.
After the Bible reading, there's a prayer followed by a short message that explains the sanctity of marriage and the importance of the wedding vows.
Then the bride and groom declare their vows (seiyaku); undeniably the most important part of a wedding ceremony. The next most important part is often considered to be the ring exchange (yubiwa no kokan). Few other parts of a wedding have as many myths and superstitions as the wedding ring.
The chapel register (shomeisho) is signed and the marriage is announced (kekkon-sengen). This is usually followed by the groom lifting the veil and then the wedding kiss. Although a few couples are shy to kiss even lightly in front of so many guests, it is a lovely, ancient display, demonstrating the mutual sealing of the contracts. The service occasionally concludes with another hymn and a benediction.
Wedding Languages

The service is performed in Japanese, English, or the most popular couple's choice; a mixture of both. If English is used, there is an adequate mix of Japanese in the message, prayers and blessings to enable everyone to understand and benefit from what Christ teaches about marriage.
Flexible wedding options
The service programme is flexible. It can be extended, shortened or the order of service can be changed, to accommodate the couple's wishes. Some request a candle lighting ceremony or add a personal touch by including speeches of congratulations or advice from family or friends. Guests feel much more involved if the wedding features a Ring Relay.
The ceremony ends and the wedding couple leave the chapel (fufu no taijo) to a flower shower, bubble shower, balloon release, etc., and often a bouquet toss.
Wedding Reception and Superstitions
The wedding reception is a celebration enjoyed with a banquet, live music and whatever other entertainment the couple chooses, so that friends and family can toast the newly married couple and share in their happiness. Gifts (usually crisp new bank notes) are presented from guests to the couple to help them start out their new lives together.
There are many Western wedding reception traditions or rituals. For example throwing the bouquet (bu-ke tosu) is a popular ritual where the bride throws a bouquet backwards over her head to a crowd of the unmarried women (bachelorettes) in attendance. It is thrown backwards so as not to favour any particular friend to catch it. Superstition has it, that the maiden who catches the bouquet will be the next one to get married.
The groom may follow suit by tossing a bouquet to his friends, as a joke. The 'bouquet' in this case would be a large broccoli, or similar.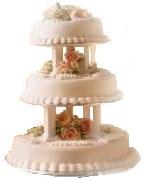 It is also traditional to serve (not toss!) a piece from a large wedding cake, usually multi-tiered. The couple perform their first act together as husband and wife, by jointly making the first cut of the cake. They may also serve each other the first bites of the cake. The cutting and serving is supposed to signify how they will be sharing everything from now onwards. Everyone is supposed to eat at least a little cake to bring the couple good luck.
There are many superstitions associated with wedding cakes and most of them end up with crumbs under the pillow, which seems a waste. Weddings cakes are relatively expensive and made to be eaten by the guests; not wrapped in lace handkerchiefs or socks and kept next to your lover's photograph by your bed. We suggest you eat the cake, then phone him/her and set the date.
The traditional multi-tier design of cake, incidentally, is based on the white, four-tiered steeple of the ancient St. Bride's Church in Fleet Street, London. The cake's tower is similar to the ancient custom of seeing whether the wedded couple can kiss each other over a precarious column of food without knocking it over. Succeeding guarantees fertility and a good life together, but it's not clear who is liable if performance fails.
Making arrangements and wedding planning
If you want something a bit different than a standard wedding party, just one or two unusual things can be quite striking. Let your imagination run wild; it's your day!
A bit expensive, but you could for example, rent robots instead of waiters to deliver the drinks. For the same cost of a lounge-singer you could hire a conjuror.
Instead of the personalised name cards on the tables, complete with the usual trimmings of wedding bells and flowers, you could have some off-beat and original artwork on your invitation cards.
Check out our Wedding Planning page for oodles of useful tips on efficient wedding planning.
Other articles on Japanese weddings and customs
And now you know the origin of this website's name
The church's patron saint is St. Bridget and a recent visit to the 6th century Saxon crypt was much more interesting than the 18th century steeple. Make sure you visit next time you're in London.
There are simpler ways to kiss!