Weddings in Philippines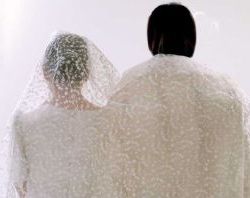 This section is one of several pages showing the text used for Jim and Nila's Filipino wedding and features the prayers for couple's veil.
Prayers for Couple's Veil
Veil Sponsors place a white veil over the bride's head and the groom's shoulders. Depending on the slippiness of the material, the veil might be pinned to their clothing.
This veil is markedly different to the veil of a Western wedding dress, which is little more than a decoration associated with a few old superstitions. The Filipino veil is like a large Spanish tulle mantilla and is deeply symbolic of two people clothed as one. The whiteness of the veil symbolises purity.
Spanish missionaries introduced this practice in the early 18th century and is similar to the Orthodox Jewish custom of draping a prayer shawl (tallith) over the bride and groom. Traditional Jewish weddings are often performed beneath a large white lace canopy (chuppah) which symbolizes the home the couple will build together. Further, a canopy implies hospitality; a home without walls, enabling easy access for guests to shelter from the sun.
The veil used in a Filipino wedding may be new or a family heirloom.
Music is played as Veil Sponsors place veil over couple's shoulders.
Pastor:
(groom's name) and (bride's name), at Baptism you were clothed with white garments symbolizing the new life of purity and joy in the Lord, to which the Risen Christ has called you. We clothe you again with this precious garment as you enter into the new phase of your life with God. Wear it unstained and let the joy of the spirit shine forth to you and your children.
The Veil covers this couple today reminding them and us that Christ covers us in his love. Their new home will be a place where God dwells because this couple chooses to be under the mantel of his love.
Lord, with this veil, which represents this couple's union and mutual surrender to each other, may you always protect (groom's name) and (bride's name) from any harm and strengthen them to provide continuous moral and spiritual support to each other and their children. May they remain loyal helpmates to each other as they carry life's burden with joy.
(groom's name) and (bride's name); (male veil sponsor's name) and (female veil sponsor's name) will now place a veil over you. Let this be a symbol of the faithful love you have for each other. Through the passing of the years, let the veil remind you that you belong to each other and to no one else, and that the love you have for each other becomes more beautiful in self-surrender that is total and pure. In Jesus' precious name...
ALL:
Amen.
Entire script in
pdf format.
Return to Filipino Wedding