Ancient Pagan and Modern Christian Symbolism
by Thomas Inman, M.D. (1874)
Pagan and Christian symbolism - Plate I
Pagan and Christian symbolism
PLATE I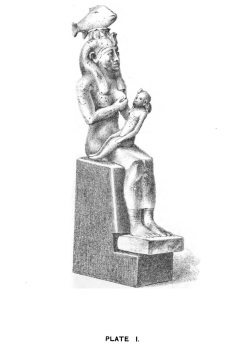 This is taken from a photograph of a small bronze image in the Mayer collection of the Free Museum, in Liverpool. The figure stands about nine inches high, and represents Isis, Horus, and the fish. It is an apt illustration of an ancient custom, still prevalent amongst certain Christians, of reverencing a woman, said to be a virgin, giving suck to her child, and of the association of Isis, Venus, and Mary with the fish. Friday, for example, is, with the Romanists, both "fish day," and "dies Veneris." Fish are known to be extraordinarily prolific. There was a belief that animals, noted for any peculiarity, imparted their virtues to those who ate them; consequently, tigers' flesh was supposed to give courage, and snails to give sexual power. The use of fish in connubial feasts is still common. Those who consider it pious or proper to eat fish on Venus' day, or Friday, proclaim themselves, unconsciously, adherents to those heathen ideas which deified parts about which no one now likes to talk. The fish has in one respect affinity with the mandrake.
Since the first publication of this work, a friend has suggested to me another reason, besides its fertility, for the fish being emblematic of woman. From his extensive experience as a surgeon, and especially among the lower order of courtesans, he has repeatedly noticed during the hot months of the year that the parts which he had to examine have a very strong odour of fish. My own observations in the same department lead me to endorse his assertion. Consequently, I think that in warm climates, where the utmost cleanliness can scarcely keep a female free from odour, scent, as well as other attributes, has had to do with the selection of the fish as an emblem of woman.
Still further, I have been informed by another friend that in Yorkshire, and I understand in other counties of England, the double entente connected with the fish is so marked that it is somewhat difficult to render it into decent phraseology. It will suffice to say that in the county mentioned, Lais or Phryne would be spoken of as "a choice bit of fish," and that a man who bore on his features the stamp which is imprinted by excessive indulgence, would be said to have indulged too much in "a fish diet." I do not suppose that in the Yorkshire Ridings the folks are unusually well acquainted with mythology, yet it is curious to find amongst their inhabitants a connection between Venus and the Fish, precisely similar to that which has obtained in the most remote ages and in far distant climes.
It is clear from all these facts that the fish is a symbol not only of woman, but of the yoni.