Gornji Milanovac Flag
The flag contains a red cross on a white disc surrounded by flower garland, all set on a blue background. The red, white and blue are three colours of the Serbian Flag.
Gornji Milanovac Flag
Gornji Milanovac is a relatively small Serbian city; in terms of population about 1/50 the size of the capital, Belgrade. Its flag includes the red, blue and white from the Pan-Slavic tricolour of the Serbian Flag and also religious symbols. But like most civil flags, its use is more political than religious.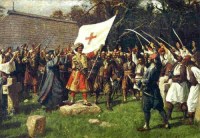 Victory at Takovo

Milos Obrenovic
A red cross on flags can often be traced back to the Christian crusader's cross. The cross on this flag commemorates the Second Serbian Uprising of 1815-1817, led by Milos Obrenovic, against the Ottoman Empire.
We cannot be certain how many of the Christian crusading knights actually wore a red cross on white tunics but it's almost certain that none of the 19th century revolution forces in Serbia wore such a uniform.
The Crusades might have hidden behind the name of Christianity, with the actual motive of gaining political and commercial control over foreign lands. The Serbian revolt was completely different; it was for religious freedom and for political and commercial control over their own land.
Another religious symbol is the garland of flowers surrounding the cross. This serves both as a victor's wreath and as a reminder that the uprising began at Easter in 1815. The flowers represent the palm fronds laid in honour of the triumphant entry of Jesus into Jerusalem in the days before his Passion, and the five represent the five wounds of Christ on the Cross. The Second Uprising started on April 23, 1815, Palm Sunday (Serbian: Cvetna Nedelja).
The flag forms part of the official coat of arms of Gornji Milanovac, although these tend to be suspended when the majority in the Municipal Assembly is held by the Socialist Party (Socijalistička partija Srbije), who object to such religious symbolism.
Go back to the main Serbian Cross page.
For an excellent site giving more detailed information about Serbian flags, see: www.zastave-grbovi.com, and for flags in general, a very good flag locator is at: www.flagid.org