777 in the toilet

Whilst we strive to raise the standard of this website, we've allowed ourselves just one more frivolous page.
And if you think the subject of toilets is just too silly to waste your valuable internet browsing time, well, you are the person who clicked on the link to this page...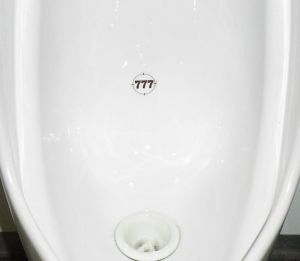 We all know that seven is a lucky number, and triple-seven is the goal of many gamblers worldwide. Extending this goal concept, and in a gallant attempt to keep the floor clean, targets marked '777' have been stuck on the inside of urinals in the public toilets on the Minatomirai subway line in Yokohama, Japan.
Go to Europe, and you'll see a picture of a fly stuck inside the urinals at Schiphol Airport, Amsterdam. (www.urinalfly.com)
During the 2006 World Cup, toilets in Hamburg were seen with little footballs within a goalmouth. (www.wee-goal.com)
These etchings are also seen in various other locations and further targets include bull's-eyes and rival team names.

North exit, Ikebukuro station, Tokyo, Japan
And that's all we have to say about public toilets.
If you have more information about this topic, please DO NOT write to us! There are other websites specialising in urinal art and we're happy to leave further research to them!
This page was uploaded, just to show the diverse usage of the so-called lucky number seven.