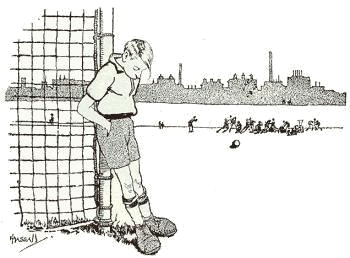 Joe dreams at the goalpost
Joe had a terrific right foot. Sadly, it was on his left leg.
So he was put in charge of the goal, where his best friends were the posts and the crossbar.
---
'Joe' appears in several of Edgar's monologues: as Joe Ramsbottom, Old Joe in George and the Dragon, Joe Moggeridge in Gunner Joe, Joe Dove in Little Aggie, Joe Lee in The Channel Swimmer and Joe Dunn in this monologue.
It is unknown why Edgar chose these surnames in preference to the more common English names of Smith, Jones and Brown. Did the characters remind him of earlier school chums?