Snapshot of the Seiyaku Cross Reference page
The Cross Reference page (shown right) is by far the most popular page. But any Seiyaku page is available for you to link.
And here's how:
Step 1: Insert the HTML code
Open the source code of your website page in your usual editor (Notepad, CoffeeCup, etc.) and locate the most suitable place for the link.
On your browser, go to the Seiyaku page you want to link to. Copy the URL of that page into your source code at the appropriate place.
This is usually displayed in the address bar of your internet browser (circled in red in the example below). It is important to note every character, including all the punctuation marks. If you miss one of those characters then the link will not work.
The easiest and safest method is to copy and paste.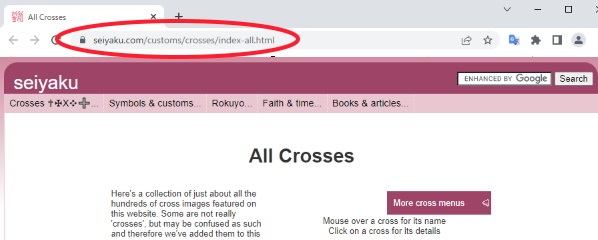 The URL is this example is
www.seiyaku.com/customs/crosses/index-all.html
Immediately before the URL type <a href=", and immediately after the URL type "> which will give you
<a href="http://www.seiyaku.com/customs/crosses/index-all.html">
Next, type the text you would like to see on your webpage. In this example we have chosen Seiyaku Cross Reference This text must be terminated with </a> to give
<a href="http://www.seiyaku.com/customs/crosses/index-all.html">Seiyaku Cross Reference</a>
Step 2: Upload to your site
Save your source file and upload the page to your website. When you view your page on the internet it will show the link you have added
Step 3: Tell us
or send a short email